---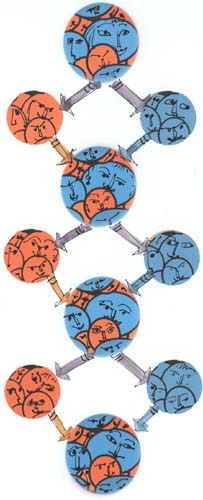 The Eaton Model uses collective communication to build consensus in a non-confrontational way. Each of these three terms needs a short explanation.

Collective communication is a novel technique of communication between groups. Instead of communicating through a spokesperson, members of a group write messages and then vote to select the one message that best represents the group. A benefit of this method is that it is democratic and involving.

Group dialogs using the Eaton Model will build consensus because there will be a third group to take part, that of the two groups combined into one. The messages selected by the combined group will represent the common humanity of the separate groups, giving the advantage to those who are looking for a positive outcome.

Group dialogs using the Eaton Model will be non-confrontational in that they will be structured so the common voice of the two groups mediates the interaction and the two groups never directly engage each other. This is best seen in the accompanying diagram. In words, the group dialog will proceed in alternating "unity" and "diversity" rounds. First there will be a "unity" round producing one message to represent the common humanity of the two groups. Then there will be a "diversity" round producing two messages, one from each of the groups separately. Then a unity round and so forth. The two groups never respond directly to each other. This structure reinforces the consensus building aspect and should altogether prevent a negative outcome even between hostile groups.

Given this structure, the Eaton Model of Collective Communication will attract people looking for positive, win-win outcomes and will put off those whose real purpose is inimical. Participants may therefore join in an Eaton Model group dialog with an initial feeling of trust for their fellow participants.
---