---
---
THE reGENERATION CONCERT FOR POSSIBILITY

Sunday, March 18, 2012 from 7:00 PM to 9:00 PM (PT)

Temple Emanuel of Beverly Hills
300 North Clark Drive
Beverly Hills, CA 90211

Christians, Jews and Muslims sitting together for one extraordinary evening supporting the education of all children in the Middle East. An historic gathering for possibility with Honorary Co-Chairs Imam Jihad Turk, The Reverend Ed Bacon and Rabbi Sharon Brous.
---

The Daniel Pearl Yahrtzeit Harmony for Humanity Concert
In recognition of United Nations World Interfaith Harmony Week
Commemorating the 10th Anniversary of his death
with Yahrtzeit candle and Yizkor Prayer
On Wednesday, February 1, 2012, 7:00 to 8:30 PM
At The Santa Monica Synagogue
1448 18th Street, Santa Monica, CA 90404
Dr. Stephen Sideroff of the Raoul Wallenberg Institute of Ethics a cooperation circle of the United Religions Initiative offered commemorative readings by Judea Pearl in honor of Daniel:
Danny traveled the world with a pen and a fiddle connecting people through words and music. Today, he is watching your stage and hundreds like it, with wonder at the global symphony that his journey has inspired. Your music will resonate today in sharp defiance of the forces of hatred that took Danny's life, and will reinforce our unshaken conviction that, at the end of the day, music will triumph and humanity will prevail. See the full text of this moving commemorative reading... [2]
---
West Coast Premier of "How to Boil a Frog"
SoCal Groups Join Forces with United Religions Initiative
to Inspire Environmental Solutions
Co-sponsored by Raoul Wallenberg Institute of Ethics
[3]

ORANGE, Calif., November 20, 2011 – OCICE [4], S.A.R.A.H. [5], the Westside Interfaith Council for a Parliament of the World's Religions [6], and the Raoul Wallenberg Institute of Ethics, all of which are Cooperation Circles of the United Religions Initiative [7] (URI), came together for the 2nd Annual West Coast Bio-Regional. This year's Bio-Regional was the West Coast Premier of "How to Boil A Frog," written, directed, and co-produced by Jon Cooksey and hosted by Chapman University's Fish Interfaith Center [8].
The premier was a wonderful success and we wish to thank all those who braved the weather to attend. We had wonderful conversation with Jon, his co-producer, Vandy Savage, and former Huntington Beach Mayor, Debbie Cook, who was featured in the movie for the work that she does as the current President of the Board of Directors for the Post Carbon Institute. Afterward, we headed over to the Fish Interfaith Center for the reception of wonderful food, lovingly prepared by Cathy Lam, caterer extraordinaire and founder of Our 1 World [9], along with donations from The Lost Bean [10], Rutabegorz [11], and Christakis Greek Cuisine [12]. Continued here [13] and here is a Second Write Up [14].

---
Euphrates Summit: Our World Beyond 9/11
at Principia College this October 27th and 28th
Dear Family, Friends, and Folks:

If you haven't already heard about this upcoming special event, please read this message -- only 16 days left.
I would like to warmly invite you to attend a groundbreaking event, the Euphrates Summit: Our World Beyond 9/11, held at Principia College this October 27th and 28th. On the heels of memorials and reflections marking the ten-year anniversary of 9/11, the Euphrates Institute offers a new way forward in America's relationship with the Middle East. The Summit will bring together visionaries on global issues and an audience of change agents to create a platform for paradigm shifts on the Middle East. Joined by Euphrates' Warriors for Peace®, the next generation of peace and sustainability leaders focused on the Middle East, participants in the Summit will explore ideas for progress and new levels of thinking in this post-9/11 era.
The Summit takes place at Euphrates' partnering institution, Principia College, a four-year liberal arts college with a century-old institutional history. The National Historic Landmark campus is perched on the Mississippi River bluffs about 30 miles north of St. Louis. The two-day Summit, Thursday and Friday, October 27th and 28th, will include three sessions designed around the Euphrates approach – to Inform, Inspire, and Transform. An expert-led, in-depth overview of the status of the Middle East – West relations will kick things off Thursday morning for the Inform session, followed by a look at inspiring models of peace, coexistence, and cooperation from the globe's most successful peacemakers in the Inspire session. Friday will focus on "bringing the ideas home" as peacemakers provide not only the reasons, but the tools for each one of us to heal divides, take personal responsibility, and commit to action in the Transform session.
Speakers at the Summit include Dr. James Zogby, head of the Arab American Institute, former Deputy Assistant Secretary of State for Iran Ambassador John Limbert, Rev. Can. Charles Gibbs, Executive Director of the United Religions Initiative, Manal Omar, current Middle East Programs director at USIP, Tom Quiggin, a court-qualified expert on terrorism, Israeli peacemaker Dr. Yehuda Stolov, and Sami Awad, executive director of Palestinian non-profit Holy Land Trust, among over a dozen other speakers from the Middle East, the U.S., and Canada.
Two days spent delving into one of the greatest questions of the age -- our relationship with the Middle East -- is an opportunity not to be missed!
Sincerely,
Rebecca Tobias, Euphrates Institute Board of Directors,
Raoul Wallenberg Institute of Ethics Board Member
---
May 13, 2011: The Wallenberg Institute congratulates its Board Member Mehnaz-Mona Afridi on her new position as Director of the Holocaust, Genocide and Interfaith Center of Manhattan College! See the Manhattan College announcement [15] for full details.
---

in our 4th Annual Movies Under the Stars
Thursday, August 18th
7:00 PM & Ramadan Iftar Break-Fast (7:36pm)
@ The Hart's
34 Berlamo, Rancho Santa Margarita
First Come, First Choice of comfy patio seating. Simultaneous indoor viewing. Bring a wrap in case it cools down a bit from this lovely weather! High School and College Students are Welcome and Encouraged to attend!
RSVP's Requested .... sarah4hope@gmail.com [16]
www.howtoboilafrog.com [17]
visit us at
www.SARAH4HOPE.org [18]
www.ocice.org [19]
---
The 3rd Annual Interfaith World Peace Pilgrimage
All faiths uniting for World Peace!
Saturday June 25th, 2011 Mt. Baldy, Southern California
"Be the change you wish to see in the world." --Mahatma Gandhi
[20]

Interfaith communities and individuals joined in this
powerful experience of prayer and ceremony upon a
sacred mountain under the great blue dome of heaven.
For more information,
visit http://sites.google.com/site/worldpeacepilgrimage/ [21]
.
---
IMAM FEISAL RAUF, ROYCE HALL
MAY 4, 8:00 pm

On Wednesday, May 4 at 8 pm, UCLA Live and the Hammer will co-present a talk with Imam Feisal Abdul Rauf at Royce Hall. As Imam of Masjid al-Farah, a mosque located twelve blocks from Ground Zero in New York City, Rauf preached a message of understanding among people of all creeds. He is also chairman of the Cordoba Initiative, a multi-national, multi-faith organization dedicated to improving understanding and building trust among people of all cultures and faith traditions.


Tickets are FREE and available in advance at the UCLA Central Ticket Office or at the Royce Hall box office on the night of the event, subject to availability. For more information, call UCLA Central Ticket Office at 310-825-2101.
A Q&A will follow the lecture, moderated by Reza Aslan, and there will be a reception at UCLA's Royce Center Circle Lounge, where leaders from a spectrum of religious and political backgrounds will have an opportunity to connect with one another and to advance the dialogue on interfaith matters.
For VIP seating and to be placed on the guest list for the reception, RSVP to Allison Agsten (aagsten@hammer.ucla.edu [22], 310.443.7003), Hammer Curator of Public Engagement.
Should you be interested in sharing information about the talk with your community, a flier is linked here [23].
For directions and parking information, visit www.uclalive.org/visit [24].
---
The true story of a gang of teenage smugglers in the Warsaw Ghetto. First they
smuggled food to feed their families. Then they brought in guns to fight for their lives.
TOURING TO COMMUNITIES – FALL 2011

A full production with a professional cast, a post-performance discussion
with the actors and playwright, and educational materials about the Warsaw Ghetto.
In November, 2010, The Survivor performed to sold-out audiences
during its run at the Electric Lodge Theater in Venice, CA.
Here's what some people had to say:
"Personally, I believe The Survivor is our generation's Anne Frank."
– Joe Gonzales, Cal State Northridge student
"A fabulous, soulful play that reflects not only the challenges of the past, but gives us inspiration
and lessons for the future – a must-see for Jews and non-Jews alike."
– Rabbi Miriam Hamrell, Ahavat Torah Congregation
"I lived the story of this play. Thank you for performing it on the stage."
– Sam Waizman, Warsaw Ghetto survivor
TO BRING THE TRAVELING PRODUCTION OF THE SURVIVOR
TO YOUR COMMUNITY VENUE, CONTACT:
www.thesms.org/thesurvivor [25] or call: 310.453.4276 or email: survivor@thesms.org [26]
download the flyer here [27]
---
The Raoul Wallenberg Institute of Ethics presents:
MEPEACE.org [28] Hosts Interactive Peace Celebration [29]
Mar 9 2011 - 7:30pm - 9:30pm
Free to the public, light snacks available, donation suggested
RSVP to 310.657.5511
Levantine Cultural Center
5998 W. Pico Blvd.
Los Angeles CA 90035-2657
between Fairfax and La Cienega
ample street parking or in the CVS underground lot
(till 10 pm only)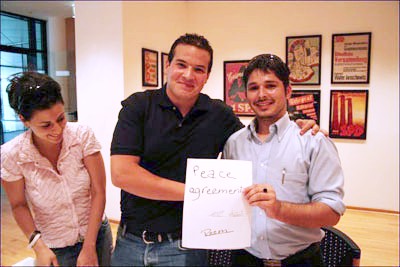 People are empowered to make their own peace agreements!
Eyal Raviv, founder ofMEPEACE.org, presents this phenomenal new network to Angelenos, showing how Americans can connect with peacemakers among Israelis, Palestinians and across the region. The evening includes refreshments along with a visual presentation and lively discussion. Donations to support mepeace.org will be welcome.
MEPEACE is a network for peace with thousands of peacemakers and millions of page visits on mepeace.org. The network is designed to:
Exemplify peace and realize peace online and on the ground,
Empower people and orgs with interaction, information and inspiration, and
Enable a movement for peace with internet and networking technologies
The web platform enables individuals and organizations from more than 180 countries to overcome physical barriers, share and learn about one another. On the ground, mepeace.org creates community-building encounters, provides activist leadership training, and offers technology consulting to other peace organizations. The Israeli media has called MEPEACE the "Facebook of Peace" because it works like Facebook and is dedicated to peace. MEPEACE is a non-profit organization. To sustain this work contributions are welcomed.
More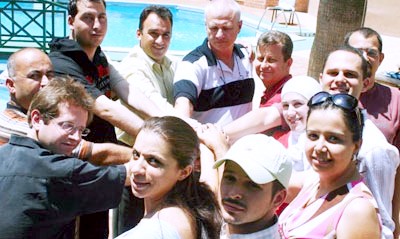 The Middle East and its inhabitants have struggled under autocratic regimes for decades, but things have changed with Tunisia's "Jasmine Revolution" of 28 days and the Egyptian Revolution that lasted a mere 18 days before Mubarak left office. Yet much more remains to be done to bring peace to the entire regime, and around the world, millions feel invested in the region. The will of the people is not being sufficiently garnered for peace. MEPEACE provides platforms for interaction, information and inspiration to harness the potential of people and organizations the region and beyond to galvanize their collective will for peace. Our goals are to create new platforms, centralize information, develop leadership in order to mobilize a critical mass of moderates for peace.
Networking
On the web platform, individuals express themselves and communicate with each other through photos, videos and text. Communication is enabled in chat rooms, and through comment walls and private messaging, and in thousands of discussions. Upon joining us one receives a page online with a personal profile, blog, comment wall and private inbox. Personal pages automatically feature the individual's discussions, photos, videos and songs. On the ground events such as Peace Cafés and other events enable peacemakers to meet in person. We participate in international peace conferences and create our own, such as the "MEPEACE: Making Things Possible" meeting in Amman, Jordan.
Impact
MEPEACE is supporting a bottom-up effort utilizing new technologies to provide a global solution for Middle East peace. We are building a grassroots movement with cutting-edge social networking technology. We aim to offer a global solution by empowering individuals across the world. Thousands peacemakers have profiles on mepeace.org - in Israeli and Palestine, as well as the US, UK, Egypt, Jordan, Lebanon, Syria, Iraq and Iran. Our web platform has been accessed in more than 18,000 cities.
Check out all the orgs to which MEPEACE links! [30]
This evening is presented with support from Middle East Dialogue Los Angeles, the Raoul Wallenberg Institute of Ethics, the United Religions Initiative [7], Muslims for Progressive Values [31] and the Levantine Cultural Center [32].
---
6th Annual Peace Conference at the Jack London High School
Co-sponsored by the Raoul Wallenberg Institute of Ethics
On May 22, 2010 the Wallenberg Institute co-sponsored and participated in the Jack London CDS
annual Peace Conference in Van Nuys, California. Students, parents, community members, and representatives attended the conference from the Los Angeles Unified School District. The Jack London School is part of the District's Options program for students who have been removed from the comprehensive high school for a wide variety of reasons. (Link to video from the Conference. [33])

Wallenberg Institute director, Dr. Stephen Sideroff spoke about the seeming contradictions between the Golden Rule, and the mindset of "Survival of the Fittest." Ron Klemp and Doug Kaback from California State University, Northridge, and members of the Wallenberg Board made a presentation on "School DayZ" which is a program designed to teach students ethics and good decision making with vignettes about school related problems.
In this presentation, Ron, Doug, and assistant principal of the Jack London Community Day School (CDS), Walter Weronka, another Wallenberg Board member, worked with eight CDS students to perform a play that was spun from one of the School DayZ stories. The students began their performance, and then Doug would stop the performance and introduce a process from "Theater of the Oppressed," where audience members were allowed to make suggestions to the
characters about some of their actions. The play was described as an "anti-model" where solutions don't seem to be possible. The audience then contributes either by sharing ideas or by assuming roles in the play itself in this interactive and innovative genre of theater.
Miriam Stein, another Board member of the Raoul Wallenberg Institute conducted a very successful hour-long Yoga class attended by CDS students and members of a youth group from Huntington Park, California. For many of these participants, this was their first exposure to Yoga and the reaction was extremely positive. We are looking forward to a repeat performance at their annual conference next year. (link to pdf [34])

---
Be the Peace Walk

, Santa Monica Mountains walk and pot luck
Sunday June 13, 4:45 pm
A Salaam Shalom Education Foundation event
Co-sponsored by the Raoul Wallenberg Institute of Ethics
"All of the earth has been made to me as, like, a mosque." Hadith attributed to the Prophet Mohammed
"How good and how lovely when one hears the song of the grass. It is therefore a precious thing to conduct oneself with piety when strolling among them." -- Rabbi Nachman of Breslov
As an interfaith group we will walk in mindful silence amidst the natural spring beauty of the Santa Monica Mountains.
A community potluck and a peace council based on Compassionate Communication will follow this contemplative walk in nature. This is an invitation for all adults who wish to embody Gandhi's teaching to

"Be the change you wish to see in the world"

. (Children who are mature enough to walk with the group in silence are invited as well.)
We will gather at 4:45 near the back entrance of Malibu Creek State Park. Please bring a dish to share for the potluck.
[35]
The Jewish and Muslim facilitators for this event are Shepha Schneirsohn Vainstein, co-founder of SALAAM SHALOM EDUCATION FOUNDATION and Soraya Deen,
founder of PEACEWORKS.
Directions: From 101 freeway exit Kanan Road and head south towards the beach. In 1/2 mile at Cornell Way turn left and go 3 miles to Crags Street. (During the last mile Malibou Lake will be on your left. Crags will appear soon after you pass Malibou Lake. Crags leads to the back entrance of Malibou Creek State Park). Once you turn on Crags, go ½ mile and park on the dirt lot on your left.
---
December 2009
Raoul Wallenberg Institute Sponsors Ethics Program
School DayZ at Pio Pico Span School
For three days in December of 2009, students at Pio Pico attended a series of plays in which they were the subjects. The plays, sponsored by the Wallenberg Institute, presented ethics and conflict issues that teens confront at school on a daily basis. The stories, based on the School DayZ process from the book, "School DayZ" by Ron Klemp (Wallenberg Board Member, and professor at California State University, Northridge) provided the material for students to begin their script writing. Doug Kabak, who teaches Drama and Theater at California State University, Northridge, (and also a Board member of the Wallenberg Institute) guided the process. He brought the methodology called "Theater of the Oppressed" which is an intriguing process to bring the audience into the play.
Once a selected group of students had read and discussed the vignettes, engaged in some writing and discussions that stimulated students' critical thinking, the students then wrote their own scripts extending the stories. As the students performed their stories, the action of the play was stopped and a question was posed to the actors from the audience. Then the other students' suggestions were acted out in an improvisation. Students also added music and lyrics to their original songs to enhance the production. Students who participated in the plays also designed the stage sets and the artwork. The students who attended the plays also read the vignettes prior to attending the presentation to ensure that they could actively participate in the experience. The School DayZ book can be found at www.Incentivepublications.com [36].

---
Building on its 2008 Middle East Peace Project [37], the Wallenberg Institute is working towards a 2010 Middle East Peace Dialog [38] with both Interfaith and Political components on the web by late 2010.
[39]
As part of the preparation for the Middle East Peace Dialog, and as a project of interest and value in its own right, the Institute is participating in a United Religions Initiative Interfaith Dialog [40] using "Group Dialog" software developed by one of our Board Members. To join the dialog, contact Roger Eaton [41].
---
---



Saturday, September 12, 2009 - noon to 3pm - please join us at the next Wallenberg sponsored event.

Please click here for more information and to RSVP

[42]

. Wallenberg Board member Roger Eaton will speak to offer our InterMix Group Dialog Software, developed with the Wallenberg, for an LA / Tehran online dialog.
[42]
In this Global Forum on Peace and Security, Dr. Muhammad Sahimi will speak on "Democracy in Iran and the Role of the Diaspora Community." Dr. Sahimi will be joined by former political prisoner and citizen-peacebuilder Ali Shakeri, who will speak on "Practical Steps for Citizen-Peacebuilding on Behalf of Iran," discussing what we can do to lend support to the democracy movement in Iran today, and to build more dialogue between Iranians and Americans. Joining this distinguished forum is Roger Eaton from the LA Area Nuclear Disarmament Coalition. There will be ample time devoted to audience participation after panel members' remarks.
Guests will first enjoy a light lunch of refreshments and Middle Eastern mezzes from 12-1 pm, with both indoor and outdoor garden seating, before Jordan Elgrably, artistic director at Levantine Cultural Center, helps introduce and moderate the afternoon's discussion, with opening remarks by IGM Gallery director Lynn Crandall.
This program is presented by USC's Institute for Genetic Medicine Art Gallery [43], in partnership with Levantine Cultural Center [32] and the Raoul Wallenberg Institute of Ethics [44], Americans for Informed Democracy [45], Los Angeles-Tehran Sister Cities and with assistance from the Center for Citizen Peacebuilding [46] at UC Irvine.
---
Global health forum focuses on fighting epidemics

By Jessica Ogilvie - Sept 4, 2009
http://www.usc.edu/hsc/info/pr/1volpdf/pdf09/1526.pdf [47] p. 2 for the original article with a picture of Dr Samet.

Featuring a keynote address by Keck School of Medicine public health expert Jonathan M. Samet, the Institute for Genetic Medicine (IGM) Art Gallery hosted a day-long forum on Aug. 22 to help educate the local health care community about international health issues. Dozens of community members and health care professionals attended the event on "Mobilizing and Engaging Communities for Global Health" to discuss ending global epidemics.
Samet, an epidemiologist, founding director of the new USC Institute for Global Health and chair of the Department of Preventive Medicine at the Keck School, kicked off the event with a discussion of the word "epidemic," which he said is generally understood to be something that "affects more people than it should." As such, current epidemics include not just viruses like H1N1, SARS and HIV/ AIDS, but also man-made diseases such as obesity and tobacco.
Modern epidemics are far more difficult to contain than they have been in the past, Samet explained. Because of the interconnectedness of our world, a virus can spread across the globe incredibly quickly, as was the case with severe acute respiratory syndrome (SARS).
The spread of SARS is believed to have started in an international hotel in Hong Kong, and from there it traveled -- incubating in human bodies -- to the rest of the world. In order to understand the nature of a modern epidemic, said Samet, leaders and experts in the field must use instances like SARS and examine them primarily from a global standpoint, but also take into account the "upstream and downstream" ways in which they spread -- rom global to local to a family home, and back again. In attempting to stem the spread of epidemics, it is vital that global health leaders and active members of the community focus on finding the links between the disease and the epidemic, he said.
For this, experts turn to the epidemiologic triangle. The triangle demonstrates the way in which a vector transports the cause of the disease through an agent to a host, and the ways in which environmental factors play a part in ensuring this transmission. Using the example of tobacco, the tobacco industry is the vector, and the diseases are transmitted through a cigarette (agent) to a smoker (host).
Environmental factors that might ensure transmission include marketing campaigns, age, peer influence and familial influence.
Samet demonstrated how the triangle works with HIV/AIDS and obesity as well. The event was co-sponsored by Americans for Informed Democracy, the IGM Art Gallery, the Raoul Wallenberg Institute for Ethics, and EMERGENCY USA.
Established nearly 30 years ago, the IGM Art Gallery implements a range of community programs including art exhibits and forums on complex social issues that interface with molecular biology and health.
---
The Raoul Wallenberg Institute of Ethics
recently held a special conference
The Muslim Mystique: Facing Fears and Stereotypes
An exploration into the Jewish Image of the "Other"
Islamic extremism

Perspectives from the Koran on peace and violence

Israel
Wrestling with reconciliation: an opportunity to explore your beliefs and new ideas.
We will also be screening excerpts from the award winning documentary, Encounter Point - "a true story about the everyday leaders who refuse to sit back as the Israeli-Palestinian conflict escalates" - illustrating the difficult choices
Date: Sunday, October 29, 2006
Time: 9:30 a.m. -- 2:30 p.m.
Place: Malibu Jewish Center & Synagogue
24855 Pacific Coast Highway
Malibu, California 90265
Interfaith educators from Abraham's Vision will facilitate this event.
Abraham's Vision is a highly recognized educational organization comprised of Jewish and Muslim trainers. This year they participated in President Clinton's Global Initiative "Mitigating Religious and Ethnic Conflict" which included notables such as Eli Wiesel, Dr. Madeleine K. Albright, Bill and Melinda Gates, His Majesty King Abdullah II bin Al Hussein, Prime Minister Tony Blair, Warren Buffet, and President Jimmy Carter.
Suggested donation  $18 - No one turned away.  A light lunch will be served.
For more information and to RSVP (reservation required) please contact RebeccaTobias@gmail.com [48]
Co-sponsored by the Salaam Shalom Educational Foundation